Facsimile Viewer: The Sonnets, Quarto 1 (1609)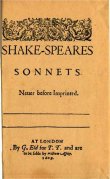 View Book
Book Name:

The Sonnets, Quarto 1

Full Title:

SHAKE-SPEARES SONNETS. Neuer before Imprinted. At London, By G. Eld for T.T and are to be solde by William Aspley. 1609.

Published:

London: Thomas Thorpe, 1609

Registration Date:

1600

Printer:

G. Eld

Book Comment:

Facsimile in the library of UCLA.
Contents
Copies of this Book
Chalmers-Bridgewater (Aspley Imprint)
View This Copy
Owned By:

Copy Comments:

The following images are taken from a facsimile of the Chalmers-Bridgewater Copy (Aspley Imprint) of the 1609 Quarto, in the Huntington Library. The facsimile is held at the Library of the University of California, Los Angeles, and is reproduced here by their permission.