Facsimile Viewer: First Folio (1623)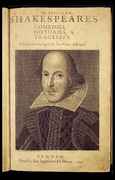 View Book
Book Name:

First Folio

Full Title:

Mr. William Shakespeares Comedies, histories & tragedies, published according to the true originall copies. London, printed by Isaac Jaggard and Edward Blount, 1623.

Published:

London: William Jaggard, Edward Blount, L. Smithweeke, and W. Aspley, 1623

Registration Date:

8 November 1623

Printer:

Isaac Jaggard and Edward Blount

Book Comment:

Sixteen new plays were entered on the date of registration.
Contents
Copies of this Book
New South Wales
View This Copy
Owned By:

Copy Comments:

Portrait in second state; signed Martin Droeshout, London sculpsit. Size: 12 3/8" x 8". 454 leaves, the first 9 preliminary matter, the Comedies 152, the Histories 132, Troylus and Cressida 15, the Tragedies 146. A fine copy; bound in full 19th cent. red morocco.
Brandeis University
View This Copy
Owned By:

Copy Comments:

The copy of the First Folio owned by Brandeis University was acquired by George F. Richardson of Lowell, Massachusetts, in 1894. On 25 February 1937 it was sold at Rains Galleries to Thomas & Eron (a New York bookseller) for $3,800, and in December 1961 Inman's Book Shop, NYC, sold it to Allan I. Bluestein, who then donated the Folio directly to Brandeis.