Facsimile Viewer Home
The Internet Shakespeare Editions has high quality facsimilies of Shakespeare's Folios and Quartos available for viewing online. You may view the books in their entirety, page by page.
Highlights of our collection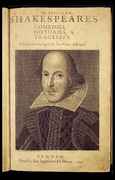 We have facsimiles and transcriptions of Folio 1, Folio 2, Folio 3, and Folio 4, and many Quartos available online.
The facsimiles are complete -- you can view a high-quality image of every page of every book.
There are many advanced features for browsing and searching the books.
There is an option to view book pages with the corresponding text next to it. For readers unfamiliar with early printing this makes reading much easier.
You can compare pages from different copies of a book side by side.
You can search Shakespeare's text to find the page you want to view.
A Folio is a large printed volume in which the paper that makes up the pages is folded once only. A Quarto is smaller, cheaper, and the paper is folded twice. Many of Shakespeare's plays were printed in both formats.
Book facsimiles available to view
Our collection contains the following book facsimiles:
For more information, visit our About page: About the Book Facsimiles.