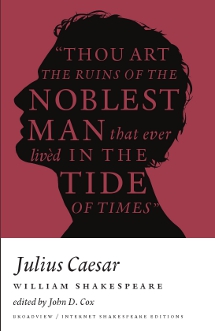 The modern text of this edition is available from Broadview Press
Julius Caesar

By William Shakespeare
Edited by John D. Cox
About this Edition
Internet Shakespeare Editions

University of Victoria, BC, Canada
Published 2007, updated 2008-10-08
ISBN: 978-1-55058-366-3
General Textual Editor:

Eric Rasmussen

Coordinating Editor:

Michael Best

Associate Textual Editor:

Don Bailey

Research Assistant:

Hannah King
Copyright John D. Cox. This text may be freely used for educational, non-profit purposes; for all other uses contact the Editor.
Editor's introduction
Texts of this edition
Supplementary and related materials
Text analysis tools
Explore the character scrolls as used by Shakespeare's actors, find out which actors appear in each scene, and more.
---
Facsimiles
Related Life And Times pages
Performances
Performance materials