The Shakespeare Herald
Shakespeare in the News
Year round here at the ISE we are constantly on alert for new Shakespeare facts or features in the news. Almost four hundred years after his death, Shakespeare is still showing up and proving his relevance around the world. Ever the master of the popular media in his time, Shakespeare permeates todays social media (as shown on our Facebook and Twitter pages). 
Shakespeare and Robben Island
Cowards die many times before their deaths;
The valiant never taste of death but once.
Of all the wonders that I yet have heard,
It seems to me most strange that men should fear,
Seeing that death, a necessary end,
Will come when it will come.
(Julius Caesar, TLN 1020-25)
Nelson Mandela, imprisoned on Robben Island, highlighted these words in the much-thumbed copy of Shakespeare's works sneaked into the prison. Check out this moving video from VOA News where the director of the Folger Shakespeare Library talks about the copy of the Complete Works they have in their collection that shows the influence of Shakespeare on prisoners in the Robben Island jail. They read, learned from, and were entertained by Shakespeare during their sentences. 
Mandela would also have read these words, deeply appropriate as a tribute to the remarkable man who read them:
The last of all the Romans, fare thee well!
It is impossible that ever Rome
Should breed thy fellow.
(Julius Caesar,   TLN 2589-91)
We are privileged to have shared this world with Nelson Mandela, a man who combined so fully the virtues of integrity and humility with strength and remarkable political acumen.
Shakespeare as collaborator
Finding a lost Shakespeare work would be an extraordinary coup for any scholar. And there have been many candidates over the years, from the attribution of "A Funeral Elegy" to the recent claim that Theobald's play Double Falsehood was a version of the lost original, Cardenio, known to have been written by Shakespeare and his collaborator in two other late plays, John Fletcher.

The latest candidate is not a play, but some additions to an earlier work, Thomas Kyd's hugely popular revenge play The Spanish Tragedy. In August, the New York Times published an article reporting on the attribution of the additions to Shakespeare. The play was first published in 1592, then later, with the additions, in 1602. It was not uncommon for theater companies to update popular plays with topical passages, or speeches that picked up on changing tastes.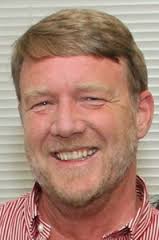 Eric Rasmussen
The passages were recently subjected to computer-aided stylistic analysis by Brian Vickers, who published an article in which he claimed a "definite attribution" to Shakespeare (Shakespeare 8:1 2012). The New York Times piece quotes Shakespeare Scholar Douglas Bruster, who has followed up with arguments based on what we know of Shakespeare's handwriting and its effect on the published work. The ISE's General Textual Editor, Eric Rasmussen, comments "We don't have any absolute proof, but this is as close as you can get."

The passages focus on the protagonist of the tragedy, Hieronymo, who has been driven mad by the murder of his son. One is an added monologue where he muses on the nature of the bond between father and son, wondering why a child should have a stronger hold on the parent than any other young animal:
What is there yet in a son
To make a father dote, rave, or run mad?
Being born, it pouts, cries, and breeds teeth,
What is there yet in a son? He must be fed,
Be taught to go [walk], and speak. Ay, or yet?
Why might not a man love a calf as well?
Or melt in passion o'er a frisking kid [young goat]?
As for a son? (3.9)
This may or may not be Shakespeare, but it is strong blank verse, and communicates an anger, if not madness, that is convincing. In due course The Spanish Tragedy will no doubt appear on our sibling site, Digital Renaissance Editions. When it does so, perhaps the additional passages will magically appear on the Internet Shakespeare Editions as well. In the digital world such magic is not difficult to program.
BBC Shakespeare to be released
The BBC is planning to release over 1,000 hours of Shakespeare materials—in audio and video—in time for the 400th anniversary of Shakespeare's death in 1616. An article in The Sunday Times (6 October) described the plans set out by the Director General of the BBC, Lord Hall, Baron of Birkenhead (aka Tony Hall). Lord Hall plans to return to something closer to the original aims of the BBC from its early years, when its mission was "educate, inform, entertain."

[An aside: in an age when arguably almost all television is focused purely on the third aim in this list, some attempt to return to the importance of education would be hugely welcome.]

The Times remarked that the release of the materials will mean that "Viewers will be able to compare Sir John Gielgud's 1948 Hamlet with the 1972 version by Sir Ian McKellen and the 2009 production by David Tennant. This wonderfully stimulating (educational, informative, entertaining) approach is exactly the aim of our own database of Shakespeare in performance. We will do our utmost to acquire as many of these materials as they become available for open access use.

[Another aside: playing Hamlet for the BBC seems to lead to an inevitable knighthood—so there is every likelihood that David Tennant will become the first Dr. Who to become Sir Doctor Who.]