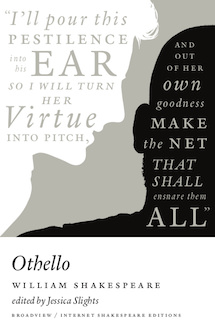 The modern text of this edition is available from Broadview Press
Othello
Edited by Jessica Slights
Quick start: Othello (Modern)
Texts of this edition
Othello first appeared in print almost twenty years after it was written, in quarto format in 1622 (Q1) and then as part of First Folio in 1623 (F1). A second quarto edition was published in 1630 (Q2). There are over a thousand variations among these three early print editions; the modern version is based on the Folio.
Supplementary and related materials
---
Related Resources
Links in this section are to pages on the websites of the Internet Shakespeare Editions, Digital Renaissance Editions, Queen's Men Editions and Shakespeare in/au Québec.
Facsimiles
Life And Times pages
Performances
Performance materials