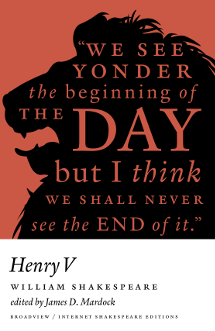 The modern text of this edition is available from Broadview Press
Henry V
Edited by James D. Mardock
Quick start: Henry V (Modern, Folio)
Texts of this edition
The 1623 Folio version of Henry V is the fullest version, and most familiar to readers. For more information on the relationship between the two versions, see the Textual Introduction.
Henry V (1623 Folio version)
Henry V (1600 Quarto version)
Supplementary and related materials
---
Related Resources
Links in this section are to pages on the websites of the Internet Shakespeare Editions, Digital Renaissance Editions, Queen's Men Editions and Shakespeare in/au Québec.
Facsimiles
Life And Times pages
Performances
Performance materials